Wow, I just re-read my last blog post and it was super boring. I almost fell asleep reading it. Sorry about that. Luckily, I did everything correct for the Apostille crap because about 2 weeks later (mid-December) I received my self addressed stamped envelope back from Sacramento in the mail with the Apostille on my document. So with that, I had pretty much everything I needed except for the passport photos and the 3 forms filled out (Visa application, EX-01 and Authorization Form M790 C052), and the notarized document explaining why I wanted to go to Spain, which I had kind of forgotten about. Luckily that was something that could be whipped up in a matter of minutes, no need to wait on a government office. I wrote in the letter how I wanted to immerse myself in the Spanish culture and spend time with family, and summarized some of the requirements and what I had provided to meet those requirements.
Once I had that document done, I had to find a certified translator. I went back into my e-mail and re-read some of the e-mails I exchanged with Auston from TwoBadTourists and he had mentioned a company called Debor Services in Los Altos. Since I was running out of time, I immediately sent them an e-mail. My questions were answered quickly and I sent over scanned copies of the required documents and they were turned around within a few days. 2 days before Christmas I drove over to Los Altos and picked them up in person. The woman who did the translation was also a notary so two birds one stone. She had all the paperwork organized nicely and took the time to explain everything. I highly recommend her services especially if you're local, but she will also mail documents to you if needed.
With that done, all I needed now was to fill out the forms and get my passport photos. Two days before my appointment, I took passport photos and with some guidance from blogs and the instructions provided with all the forms I managed to fill them out correctly. They took them at my appointment with no problem.That same day also went to FedEx Office and made copies of everything plus an extra copy for myself and got some cash out at the bank.
So…much…paperwork
The appointment itself was the next day on Monday, January 9th. I got to San Francisco 45 minutes early and found a parking spot close by. I went by Starbucks and used the restroom and ordered a chestnut praline latte (I'm gonna miss the holiday flavors) and walked around a bit. Then 10 minutes before my appointment I went inside. When I first envisioned the consulate I envisioned something like the passport office in downtown SF, but looking it up on Google street view a few weeks prior showed me otherwise, it's actually a smallish building on a fairly quiet street. The door was locked but I was buzzed in.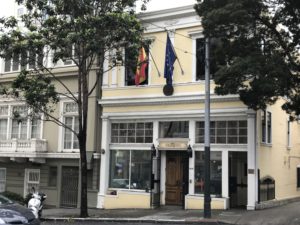 The waiting room was full, I checked in at the front desk and sat down and waited. And waited and waited. Luckily I had nowhere to be for awhile. I think there was just one person processing visa applications. An entire family of four went in for their appointment ahead of me. I chatted with a guy who was also applying for a non-lucrative visa, although he had already been living in Europe for awhile. I sent some e-mails on my phone and looked at Instagram. I went out to my car to get my phone charger and make sure I didn't have a parking ticket. Finally 2 hours after I had arrived, they called my name. I later overheard that Mondays and Fridays are the busiest times to go to the consulate.
I went through the door and to the back of the building and walked up to a window, like a ticket window. The appointment itself took about 15 minutes and went well. All my documents appeared to be in order. The woman processing my papers asked me why I wanted to go to Spain and I explained my reasoning to her, how I was taking a break from work, and wanted to live in Spain and spend time with family. She stamped a few things and scanned my passport, then asked me for the visa fee plus the authorization fee, which came out to a total of $151. She also asked what dates I was planning on being in Spain, and gave me an confirmation number and a website I could check the status on, and told me when the visa was ready I should come back with my passport and my airline itinerary. The most surprising thing for me was that she didn't keep my passport. Everything I've ever read, and even the consulate themselves had e-mailed me and confirmed they'd keep my passport during the process. But I went home with it.